The latest study by Physicians for Social Responsibility
Multimedia journalism by The Story Group
What PROPOSITION 112 Would HAVE DoNE
In 2018, we worked to pass a statewide statutory law that would've established common sense buffer zones between fracking and occupied buildings – like homes and schools – and areas of special concern – like playgrounds and drinking water sources.
Since health studies show harmful effects to people within a ½ mile of fracking operations, the ballot initiative would have established a buffer zone of 2,500 feet (almost ½ mile) from these operations and occupied buildings or areas of special concern.
Join us in protecting the health and safety of all Coloradans
Fracking is harming much of what we all love about living in Colorado and why so many people like to visit – the fresh air, clean water, beautiful landscapes and a safe place to raise our families.
Campaign History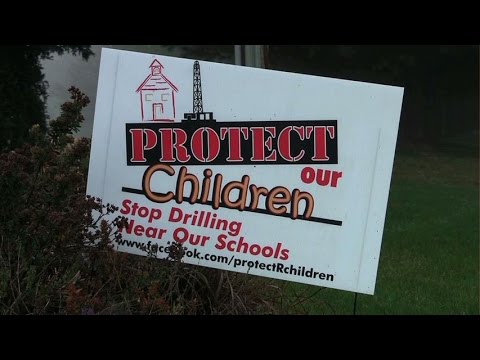 Colorado Rising formed to protect our communities from the dangers of fracking. A statewide ballot initiative to protect our health and safety is badly needed.
Here's why: Currently, fracking operations are allowed to take place just 500' from a home and 1,000' from a school building (and right by school playgrounds). The industry has shown blatant disregard for public health and safety, and the current state regulatory body – the Colorado Oil and Gas Conservation Commission (COGCC) – has not provided responsible protective regulatory oversight to prevent inappropriate siting of toxic fracking operations adjacent to homes, schools and water sources.
---
---
Timeline
2010
Around 2010, five Colorado communities passed local initiatives to place local moratoria or bans on fracking in their city limits.
Spring 2016
The Colorado Supreme Court sided with the Colorado Oil and Gas Association and overturned the community protections, ruling that the State has pre-emption.
Summer 2016
People fought for 2 statewide ballot initiatives (75 and 78) that would have allowed local community control of fracking and increased buffer zones between occupied buildings and special areas to 2,500 feet. In just 3 months, these 2 initiatives together garnered over 200,000 signatures and nearly made the statewide ballot (despite the fracking industry spending over $14M in slick PR campaigns against the initiatives).
In 2016, the initiatives missed placement of the initiatives on the statewide ballot because the Secretary of State's Office rejected too many of the signatures for pedantic reasons, dropping the petition signers just below the required number.
Despite this disappointing setback, the movement to protect our communities from fracking has continued to grow and build support for a successful initiative effort in 2018.
March 2017
The Colorado Appeals Court ruled in the Martinez vs. COGCC decision that the state's Colorado Oil and Gas Conservation Commission (COGCC) must protect health and environment before permitting oil and gas drilling, siding with Xiuhtezcatl Martinez and other youth plaintiffs, saying the protection of public health and the environment is "a condition that must be fulfilled".
In a shocking move, the COGCC and Colorado's Attorney General filed to appeal that decision.
April-December, 2017
April 17, 2017 – An Anadarko well which had an open gas line venting gas under a house in Firestone caused it to explode, killing two brothers-in-law, Mark Martinez and Joseph Irwin III, and seriously burning a mother and local teacher, Erin Martinez. Fortunately the child in the home survived by jumping from a second story window.
Since then, the demand for action has continued to build. Statewide polling shows strong support for action to protect our neighborhoods from fracking. This demand for action is building after recent events:
January-November, 2018
Colorado Rising, which is comprised of many of the grassroots groups and activists who worked hard on the 2016 effort and many new allies, launched a 2018 ballot initiative effort armed with all the knowledge acquired last time, and thanks to incredible volunteer efforts we made the 2018 ballot with Proposition 112!
In early 2018, we submitted ballot initiative language for a statewide statutory ballot initiative to protect public health and safety from fracking by establishing buffer zones of 2,500 feet between new oil and gas operations and occupied buildings, such as homes and schools, and other vulnerable areas, including water sources and playgrounds.
A 2,500 foot buffer zone (almost ½ mile) is strategically based on polling and health studies that show harmful effects, such as cancer, difficulty breathing, low birth weights and birth defects, on people living within a ½ mile of fracking operations (especially vulnerable populations like children and the elderly) and public safety data regarding the impact zones of explosions, fires, leaks, and plumes. This will provide much needed protection for all of our communities.

Throughout the winter and spring of 2018, we created a statewide network of volunteers to help with signature gathering, outreach, fundraising and education, with the help of a growing list of endorsing partners

. Volunteer trainings in communities throughout Colorado began in February.

On April 6, 2018, the ballot initiative language was officially approved by the Colorado Supreme Court.  See our press release. Our initiative overcame all the arguments from the oil and gas industry and prevailed! This approval represented the final hurdle before statewide signature gathering could begin.
From mid-April until August, more than 650 Colorado Rising volunteers worked in their communities throughout the state, collecting signatures.  We had until August 6th to collect approximately 100k signatures in order to qualify for the November 2018 ballot.
On August 6th 2018, we turned in over 172,000 signatures for our "Safer Setbacks from Fracking" initiative to the Secretary of State.  We send a huge thanks to all of our supporters who made this enormous grassroots achievement possible!
On August 29th, the Secretary of State certified the count of valid signatures and approved our initiative for the state-wide November election!
Tuesday, November 6th was election day. Although Proposition 112 garnered over 1.1 million votes, we did not achieve a majority and Prop 112 did not pass. Despite being opposed by a $40 million propaganda campaign, support for similar protections is still very strong and Coloradans remain concerned about the impacts of oil and gas extraction on our communities.  
2019 Accomplishments
We brought on Joe Salazar, civil rights attorney and a former State House Representative as our executive director.  We also expanded our team to include eight dedicated fighters to help with litigation, community organizing, development, and policy.
We advocated for the strongest possible version of the oil and gas reform legislation (SB-181) during the 2019 legislative session by working with elected officials, recruiting our supporters to testify at hearings and fighting off weakening amendments. We continue to play an active and vigilant role in the Colorado Oil and Gas Conservation Commission's rule-making process to implement SB-181. Crucially, we filed a complaint to stop all oil and gas permitting by the state of Colorado until rulemaking under SB-181 is completed.
Our group successfully re-opened the lawsuit and filed a motion

to reinstate Longmont's voter-enacted fracking ban that has remained in the city and county charter since 2012.

Together with others, our group organized several direct actions and rallies at the State Capitol and at town halls to pressure elected officials to stand up to oil and gas special interests.  We successfully engaged several local governments to reevaluate their position and strengthen their oil and gas regulations.
We established Colorado Rising as the go-to resource for press for commentary on oil and gas in Colorado.  Additionally, we were quoted in hundreds of news articles from the national to the local level including the UK's The Guardian (twice), Bloomberg, the Associated Press, and Reuters.
2020 Projects
In early January 2020, Colorado Rising submitted language for six proposed ballot initiatives to the CO Secretary of State's office to protect public health and safety, and to make sure the industry is held accountable for cleaning up their own mess.  The need for a citizen led ballot initiative is in response to the Colorado Oil and Gas Conservation Commission's failure to implement new oil and gas legislation (SB-181) effectively. Since the signing of the new law over 1,000 new wells have been approved in Colorado with none of the protective measures or impact analysis required by SB-181.  We are taking the fight against the oil and gas industry back to the ballot box! 
By February 5, the 6 ballot initiatives had successfully cleared the first title board hearing.  Soon, Colorado Rising will decide which initiative(s) will be our main focus for the November 2020 election.  After a few more steps by the Secretary of State, the final petition(s) should be approved for circulation by early Spring.
OUR MISSION STATEMENT:
Colorado Rising is a statewide grassroots coalition of people and organizations working together to protect our communities from the dangers to public health and safety of fossil fuel operations – from extraction to combustion, to promote the transition off fossil fuels, and to protect our environment for future generations.  Colorado Rising engages in community empowerment, education, litigation and policy efforts to support the growing public demand for protection for our communities from the serious impacts of fossil fuel activities on public health, safety, our environment and global climate.
There is still much to be done, and now is the time to get involved to help us win. We need volunteers with all talents, so if you care about the health and safety of all Coloradans, please join us.